ICE arrests non-citizens appearing in state courts, a sitting judge is indicted, and public defenders and District Attorneys sue to get ICE out of the courts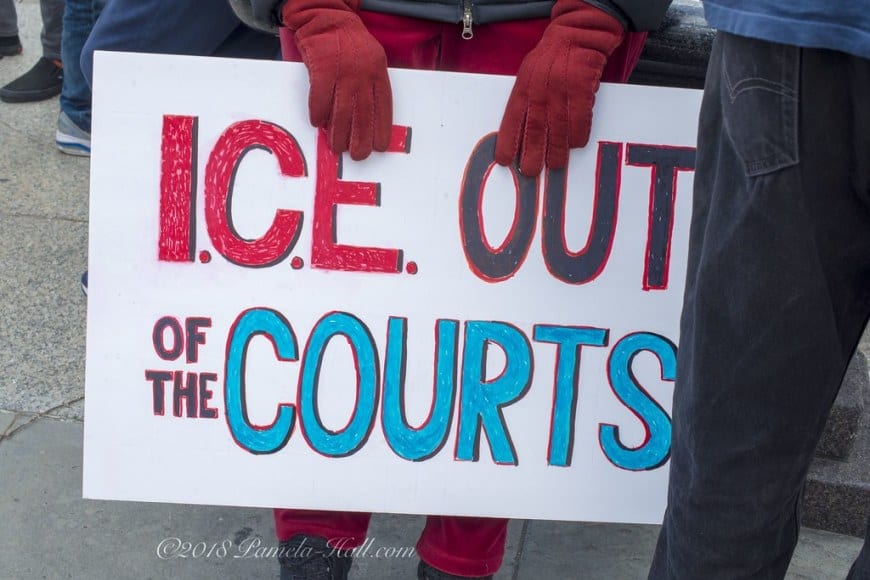 It has become the routine practice of ICE Agents to camp out in state courts to catch their prey. When agents believe that someone on their list is scheduled to appear they show up with the intent to take the person into ICE custody. While that may sound like a practical approach to find people who may otherwise hard be to find, it has a detrimental impact on state court functioning because non-citizen litigants and witnesses (especially those who are undocumented) are afraid to appear to resolve their claims. If the person apprehended happens to have an open state court case, ICE then prevents their individual held in their custody from attending their state court appearances. This is particularly troubling when the person detained has an open criminal case and those charges form the basis of ICE determining that the person must be removed. ICE creates a situation where the accused cannot return to court to fight the charges.
Judge Shelley Joseph Obstructed Injustice in her Courtroom
The recent federal indictment of Massachusetts Trial Court Judge Shelley Joseph for obstructing justice when ICE agents came to her courtroom to arrest a person appearing before her has made national news and is particularly troubling. Court Officer Wesley MacGregor is also charged with obstruction of justice. ICE agents appeared in the Newton District Court to take custody of a person who was in the court's custody. The man in question was believed of having a warrant out of Pennsylvania and appeared in Judge Joseph's courtroom under a fugitive from justice complaint. The ICE agents wanted the man named in the warrant out of Pennsylvania. The judge had a conference with the defense attorney and prosecutor and the prosecutor stated that they believed that the man was not the same person wanted by Pennsylvania after reviewing a mug shot sent from Pennsylvania. The judge had ordered ICE agents out of the courtroom prior to the hearing, which was held at sidebar so not audible to the courtroom. The court recording system was turned off so there is no transcript but it appears that there was a decision to release the man. The man went downstairs to the lock up and released out the door to the lock up without he agents being made aware of his release from the building. To be clear, when a state court releases a person who had been brought into the building in custody, that person goes back to the lock up where a final warrant check is done and belongings are collected, and then released from the door to the lock up – which is in the back of most courthouses. I have conferred with lawyers who regularly practice in the Newton District Court and that is the practice there.
So the fact that the man was released from a back door should not spark conspiracy theories. The issue is whether the judge acted correctly in releasing this man from custody without informing the ICE agents that she was doing so. There isn't an easy answer to that question. The state courts are not beholden to ICE agents inside their building nor should they be. Additionally, the Massachusetts Supreme Judicial Court issued an opinion in 2017 stating that a state court may not detain an individual on the sole basis of an ICE detainer. The Massachusetts Trial Courts issued a memo titled "Policy and Procedure for Courthouse Interactions with the Department of Homeland Security" in response to that opinion. The Policy, which I've read, states unequivocally that "when an individual who was brought into court in custody is subject to release after his or her court proceeding, court security personnel shall process that individual out of lock up in the normal course regardless of whether the individual is subject to a civil immigration detainer or warrant." However the policy also instruct that "if, during the processing of an individual subject to release out of the courthouse, a DHS official is present in the courthouse and seeks admission into the courthouse's holding cell area in order to take custody of the individual pursuant to an immigration detainer or warrant, court officers shall permit the DHS official(s) to enter the holding cell area in order to take custody of the individual once Trial Court security personnel have finished processing that individual out of the court security personnel's custody, if a security department supervisor determines that the DHS official would otherwise take custody of the individual inside or immediately outside of the courthouse." The policy gives instruction to court officers about ICE agents accessing the court's lock up facility but does not specifically address judicial response under the circumstances where the true identity of the person in custody is in conflict with the person ICE seeks to detain. The US Attorney's Office has stated that Judge Shelley specifically violated trial court policy in releasing that man. This does not seem clear. The US Attorney's Office also specifically stated in its indictment that releasing a person out the back door is not the practice in Newton District Court and that simply isn't true.
ICE Detainers Have Been Found Unconstitutional
While there has been no discussion about what papers ICE agents brought with them to court, ICE agents regularly appear in courts with "ICE detainers" which are not judicially signed warrants for arrest; they are documents signed by immigration agents and are not necessarily supported by probable cause. Courts around the country are finding ICE detainers unconstitutional when not supported by probable cause to arrest. This includes a ruling by the First Circuit, which is the federal court of appeals for the area that includes Massachusetts, which ruled in Morales v. Chadbourne, that the Fourth Amendment requires that detainers be supported by probable cause. The Trial Court policy reminds its employees that ICE detainers are not signed by a judge or clerk and for that reason a person subject to such a detainer must not be held by the state court on that basis alone.
Federal Indictments Were Designed to Intimidate State Courts from Protecting Non-Citizens
Given this background information coupled with the judge's belief that the person in her custody was not the same person named in the Pennsylvania complaint and ICE detainer, her actions in releasing the individual without handing him over to the agents no longer seems as unreasonable as they have been cast. Further, prosecuting a sitting state court judge for releasing a man that she believed was not the man ICE was looking for all but guarantees that judges will act in fear now that their courtroom decisions may result in federal prosecution. Non-citizens already have limited protections and that protection has eroded even further.  I am also concerned about the position that court officers, defense attorneys, and prosecutors are now placed in following the indictments. The court officer was following the judge's order which is exactly what court officers are supposed to do. I fear that in the future we will have court officers refusing to follow a judge's order if they feel that a law is being violated in the courthouse. Will they have access to counsel if they disagree with a judge's order or will they be expected to make legal determinations on their own? Also, from my review of the indictment, it appears that the defense attorney was questioned by federal agents and then testified in the grand jury. It's fair to assume that the attorney did not want to testify against a judge and court officer from a court where they practice but did so out of fear of being charged with obstruction. The lawyer's crime would have been for advocating for their client's release but was likely told that non-compliance would result in charges. I fear that this will impact defense attorneys' willingness to advocate for their clients when there are ICE agents waiting for them. It seems that the federal government believes that defense attorneys are expected to hand their clients over to ICE agents with detainers that are potentially unconstitutional. Trying to protect our clients from unconstitutional apprehension will be viewed as obstruction of justice. I also am concerned about instructions that Assistant District Attorneys will be getting in light of this incident. From the portion of the recording that I read, the ADA mentioned that there was an ICE detainer and also made took a "hands off" approach by making it clear that they did not represent ICE, which was the right position to take. I'm sure the ADAs will be too fearful to take such a hands off approach to ICE intrusion into the courtroom in the future – and with good reason in light of this overreach.
If after reading this you still think that the judge did something wrong by releasing the man without notifying ICE, there is a Judicial Conduct Commission charged with investigating allegations of judicial misconduct. Simply put, there are other forms of punishment than a federal indictment. Given the identification issue which calls into question the constitutionality of the ICE detainer and the SJC's decision and Trial Court policy that state courts should not be detaining individuals when the sole basis for the detention is an ICE detainer, there is a strong and viable defense to allegations of obstruction of justice. Federal prosecutors generally go for easy lay ups in their prosecutions – they bring cases that are easy wins. This prosecution does not appear to be such a case. This is politically motivated action to intimidate state actors – who cares if a few lives are ruined in the process?
Defense Attorneys and District Attorneys Join Forces to Get ICE out of State Courts
Within days of Judge Joseph's arrest, a lawsuit was filed seeking to prohibit ICE from arresting people in state courthouses in the Commonwealth. The lawsuit was obviously a long time in the making but the timing of the filing was dramatic and wonderful. The Committee for Public Counsel Services (the Massachusetts public defender's office), the District Attorneys for Middlesex and Essex counties, and Chelsea Collaborative (a Latino-led community advocacy group) filed the lawsuit. In their complaint they wrote "ICE's decision to flout the long-standing common-law privilege against civil courthouse arrests and to commandeer the state courts for federal civil immigration purposes has led to effects on Plaintiffs, the Massachusetts justice system, and the public at large." The suit seeks to prohibit ICE from using state courthouses for its arrests. I will be watching both the Joseph/MacGregor criminal cases and this civil suit with great interest as they proceed in the federal court.